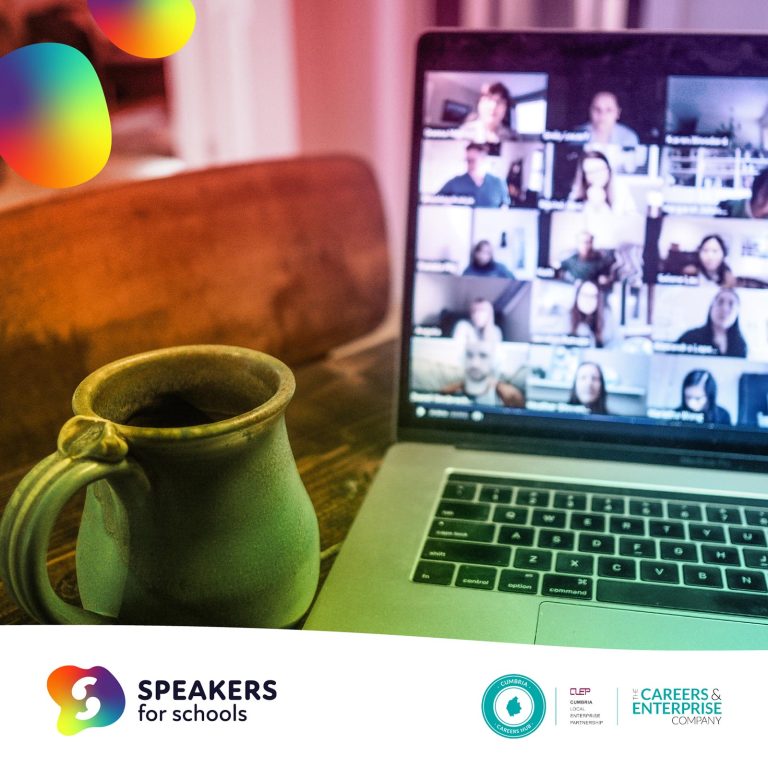 The Careers Hub, Speakers for Schools and local employers hosted a Virtual Insight Day series at The Queen Katherine School in Kendal recently, providing a high quality virtual experience of the world of work.
Each of the five days focused on a different sector, giving over 250 students in years 10 and 11 meaningful career insights. The sessions were interactive, with plenty of opportunities for students to engage and get their questions answered.
Highlights of the week-long programme included a logo creation session with Plain Creative, an engaging debate on knife crime with GKM Solicitors, a question and answer session on Human Resources with Kaveney HR, a discussion with apprentices at Orsted, a mocktail masterclass with Hargreaves Enterprises, and kick-starting enterprise projects with a range of local entrepreneurs.
The five sector insight days covered:
Digital and Creative — Supported by Kendal Mountain Festival, Adamedia, Nuclear Graduates and Plain Creative.
Visitor Economy — Supported by Graythwaite Adventure, The Gilpin, Hargreaves Enterprises, Lake District National Park and Mountain Goat.
Construction, Engineering and Clean Energy — Supported by Story Contracting, Kaefer, Orsted, Nuclear Graduates, NDA, NTS Global and PPM.
Professional Services — Supported by The Cumberland, Kaveney HR, NDA, Nuclear Graduates and GKM Solicitors.
Entrepreneurship — Supported by Lake District Adventuring, Herdy, Victorian Candles, TEG, Lakeland, Watch This Space and Future Fixers.
The insight days were delivered online through Google Classroom and gave local employers an opportunity to see and experience the Speakers for Schools platform.
Speakers for Schools is a national charity with a mission to help level the playing field for young people of all backgrounds. Its aspirational engagements put young people in touch with leading companies and networked support partners, to spark their ambitions and the belief in what is possible for the future.
The Cumbria pilot was structured to include all of the elements that the Careers and Enterprise Company says creates impactful experiences of workplaces and were tailored to the aspirations of the students. It is set to be developed to provide a wider offer to schools and young people in Cumbria, supported by more employers who wish to work collectively or individually to run insight day programmes.
Alison Beard, Enterprise Coordinator at Cumbria Careers Hub, said: "It has been a pleasure to support The Queen Katherine School and Speakers for Schools in the delivery of the virtual insight days. The pandemic has posed many challenges, but it is vital we continue to invest in our future workforce. As part of the programme, the students submitted application forms for the day of their choice. The standard of these were exceptional, and I believe we are in very good hands in the future.
"We developed a high quality model which could be replicated as part of the pilot programme giving the students a glimpse of the roles in that sector by providing an opportunity to talk to multiple people from different businesses and complete a project.
"The employers who supported were fantastic. They were extremely inspiring and enthused the students about their sector. Feedback from students has been excellent, and they very much valued the opportunity to engage with the employers. After a difficult year, it has given the students an optimistic boost about their future."
Jason Elsom, Chief Executive Officer, Speakers for Schools, said: "We are delighted to see leading employers in Cumbria on board with Speakers for Schools and joining our mission to end educational inequality. As we approach our next campaign focusing on technology, we call upon more employers to join our virtual work experience programme and more schools sign up to broaden the horizons of young people across the UK."
Pip Kingston, Careers Lead at The Queen Katherine School, said: "Our week-long Careers Insight Days Event was a huge success. The careers education provided much needed inspiration and positivity to our students after a very challenging year. I would like to thank all the employers involved, Cumbria Careers Hub and Speakers for School. I would also like to thank our students – they were fantastic. They have bright futures ahead."
Graham Hadaway, Brand & Marketing Director at Hargreaves Enterprises, said: "This is the future of work experience Insight Days for rural areas. This event not only allowed us to give students live tours of our hospitality businesses but also meant we could involve multiple staff, which otherwise might not have been possible. I think these virtual Insight days will long-term complement in-person events and allow for wider participation by Cumbrian Businesses. We need more of this."
The Queen Katherine students themselves were also extremely enthusiastic about the value of the programme.
The Creative, Media and Digital Insight Day will definitely help me in many ways. It has taught me the importance of building a CV and I am more knowledgeable about the range of jobs in the sector. I have learnt that career paths change and that flexibility is exciting. I feel more confident about the specific career I would like to pursue and I feel inspired!

Mima, Y10
On the Creative, Media and Digital Insight Day, I learnt about the variety of pathways leading to specific careers. I really enjoyed learning about the different opportunities out there and how work experience is important and useful. This experience has made me think more about the different careers available in our local area and across The North West.

Isaac, Y10
The Professional Services Insight Day gave me an invaluable insight into what employers do, how they got to where they are and what the jobs entail. I am now more confident and certain about the career path I wish to follow and I am even more determined to get where I want to be! Thank you to the employers and organisers. It was a great day and I really enjoyed it.

Chloe, Y11
The Construction, Engineering and Clean Energy Insight Day gave me lots of information about the qualities an employer looks for in a potential candidate. It gave me a clear insight into the many different and unique opportunities the industry has to offer; the level of detail about each company was really good.

Charlotte, Y11
---