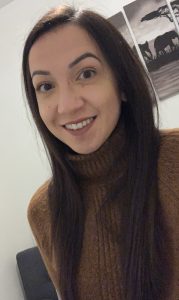 Antonette Cullen
Why did you become an Enterprise Adviser?
"I became an Enterprise Advisor as I really wanted to help young people in the area get their careers kickstarted in the right way. I hoped that my knowledge and skills working in HR could be useful to those just looking to get into the world of work."
Tell us about your chosen career or career pathway to your current role
"After my A-Levels, I decided to go to university and following that, was accepted onto a graduate scheme. This allowed me to gain some great experience as well as a Masters degree in Professional HR. From there, I have gained a range of specialist and generalist HR experience working both in the public and private sectors. I very much enjoy my current role working as HR Manager for Clark Door; we are a growing and ambitious business that supports a number of young people in the local area through our varied and exciting apprenticeship offering."
What careers advice would you give to your 16-year-old self?
"Get as much work experience as you possibly can. If this means giving up a few hours in the evening or at the weekend to get some voluntary work experience, this will really stand you in good stead when applying for jobs. Half the battle can be demonstrating you have experience when you're a school leaver, but having the initiative to volunteer in your spare time can really help you stand out and make a positive impression."
What do you like/love best about living and working in Cumbria?
"I only moved to Cumbria in 2017 and I love living here. There are lots of excellent work opportunities within the area and it's only a short drive away from the beautiful Lake District, so lots of things to do and places to see!"
| | |
| --- | --- |
| Name: | Antonette Cullen |
| Job Title: | HR Manager |
| Organisation: | Clark Door Limited |
| Sector: | Human Resources Manufacturing and Engineering |
| Contact Email: | CumbriaCareersHub@thecumbrialep.co.uk |
| Key Skills: | Strategic thinking and planner, strong business networker, employability skills knowledge and strong presenter. |
Sign up to our newsletter for information on news, events and more.