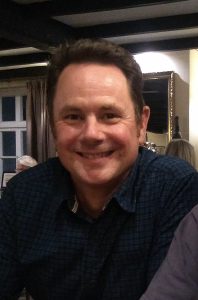 Ben Whiteley
Why did you become an Enterprise Adviser?
"I was asked to consider the role of an EA by my employer, as the company has a strong social responsibility ethic.  I was happy to accept, as I believe each generation has a duty to support the next, and I certainly benefited myself as a young person from some good role models and mentors as I was growing up.
I do a lot or recruiting and career development of others in my role, although I arrived at my current role through a slightly untypical career pathway.  I think this helps me see a person's potential and alternative ways to succeed in career and life, beyond only the usual linear and sometimes narrow, conventional routes.  I hope I can apply this experience to assist a wide and varied cross section of young people to get on in life and reach their full potential."
Tell us about your chosen career or career pathway to your current role
"I am a Senior Engineering Manager in the civil nuclear services industry.  In this role I manage a multi-disciplined engineering design team, delivering designs for task and project implementation on nuclear sites.  Most typically this is in the field of nuclear decommissioning.
My working life on leaving school began in forestry.  I continued in forestry and tree surgery work for a few years until returning to college to do a Forestry Service Engineering diploma.  This took me out of forestry and into servicing and maintenance of heavy plant.  After a few more years and travelling the world, I went to university and took an Engineering foundation course, leading directly on to a degree in Mechanical Engineering Design.  Upon completion I applied and was offered a position on Sellafield's graduate training scheme, and worked as an engineer identifying, planning and managing the execution of plant engineering improvements for seven years.  I really wanted to be an engineering designer though and joined UKAEA as a Senior Mechanical Design Engineer.  After a short time I became an Engineering Manager, still responsible for design output, but leading teams of multi-disciplined design engineers, developing new assets, plant improvements and technical solutions for a range of nuclear site customer issues.  In due course I became the company Mechanical Engineering functional lead for the county, responsible for recruitment, resources, design delivery and quality assurance of all mechanical engineering works performed by the business in Cumbria."
What careers advice would you give to your 16-year-old self?
"Find what you love because you will be doing it for a long time.  If you do something you love, then you will be successful and the income will follow.
Have self-belief and make your own opportunities. The most important attributes to career and life success are a positive, self-confident, and outgoing outlook and work ethic, rather than academic ability."
What do you like/love best about living and working in Cumbria?
"The community and the countryside."
| | |
| --- | --- |
| Name: | Ben Whiteley |
| Job Title: | Senior Engineering Manager |
| Organisation: | Cavendish Nuclear |
| Sector: | Nuclear Engineering Services |
| Contact Email: | ben.whiteley@cavendishnuclear.com |
| Key Skills: | Project management, problem solver, strong business networker and employability skills knowledge. |
Sign up to our newsletter for information on news, events and more.