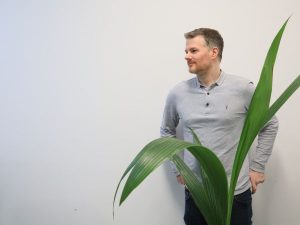 Gareth O'Rourke
Why did you become an Enterprise Adviser?
"I wanted to use my extensive business experience to help young people in education."
Tell us about your chosen career or career pathway to your current role
"I have a wide range of business interests.  I started We Are Digital in 2021 with the aim of becoming one of the leading digital agencies in the North West region. We are already working with a range of clients in the UK with their website design and build, SEO, paid media, social media and more.
I am also a co-founder and investor of an ecommerce startup wellbeing business, Zleepy, which will launch in May 2022 and specialises in retail products for the sleep space.
In 2020, I created the Lake District Hub (lakedistricthub.com) which showcases the best of the Lake District and Cumbria and promote tourism and hospitality businesses.
In 2018, I co-founded YourHemp which is an ecommerce business selling a range of CBD products to the UK market.
Between 2015-2020 I was Director of International Ecommerce and Buying at cho.co.uk  where I helped grow the UK website by over 500% into a multimillion pound operation, selling some of the leading brands across the UK.  My responsibilities in this role included helping to manage a team of 23 people across multiple departments and leading on all digital marketing budgets and strategy and all buying budgets and strategy.
Prior to this I was Head of Sales and Marketing at Lakelovers with responsibility for both online and offline marketing and heading up the sales side of the business.
I also hold the following roles:
Non executive director – Carlisle Cathedral Enterprises
Governor – Lake School, Windermere
Tech start-up mentor – Tech Manchester
Freelance consultant/adviser – Cumbria Chamber of Commerce."
What careers advice would you give to your 16-year-old self?
"Maths, English and science are so important along with having a good understanding of digital and IT.  I would also say be flexible, the world of work is changing, and it's very likely that you may have to pivot in your career path and that's OK.  Take the time to learn more and consider internships – there is nothing wrong with working for free if it's going to enable you to move your career on. I would also say have confidence in your own abilities and don't be afraid to find your voice. The last thing I would say is that everyone fears making a mistake but it's a natural part of business and often how businesses learn and improve.  It's actually OK to fail as long as you learn from those failures."
What do you like/love best about living and working in Cumbria?
"I love the area first and foremost, having travelled to over 40 countries across the world. The Lake District and Cumbria still has some of the most breath-taking scenery on the planet. I like the fact I am involved in so many aspects of business across the region and able to use my skillset to help those businesses."
| | |
| --- | --- |
| Name: | Gareth O'Rourke |
| Job Title: | Managing Director |
| Organisation: | We Are Digital |
| Sector: | Digital Marketing Agency |
| Contact Email: | cumbriacareershub@thecumbrialep.co.uk |
| Key Skills: | Business mentor, strategic thinker and planner, strong business networker, digital marketing |
Sign up to our newsletter for information on news, events and more.