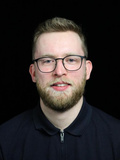 Robert Walker
Why did you become an Enterprise Adviser?
"To help students and young people explore and identify the right route into the workplace for them."
Tell us about your chosen career or career pathway to your current role
"I joined a recruitment agency out of university, and worked with a range of clients across multiple industries before being headhunted by AWS to bolster their European recruitment efforts."
What careers advice would you give to your 16-year-old self?
"You don't need to have figured out your whole career at 16, there's time and taking the next step will unlock options for you moving forwards."
What do you like/love best about living and working in Cumbria?
"The balance between working and enjoying the beauty of the lakes on your doorstep, many people never have the opportunity to finish work and head up a mountain or dive in a lake."
| | |
| --- | --- |
| Name: | Robert Walker |
| Job Title: | Technical Sourcing Recruiter |
| Organisation: | Amazon Web Services |
| Sector: | Information Technology |
| Contact Email: | robert.j.a.walker@hotmail.co.uk |
| Key Skills: | Project management, strategic thinking and planner, problem solver and employability skills knowledge. |
Sign up to our newsletter for information on news, events and more.