A brilliant 2 days has been spent at the Ulverstem event. It was great to chat with primary, secondary and FE students, alongside parents and employers about the careers opportunities linked to STEM subjects in the Furness area.
With the primary students we talked about being the best you can be and shining like a star to showcase all of the skills that you have. With the older students we talked about using the star acronym to be successful at interviews to demonstrate your skills to answer those tricky competency based questions.
A really well attended event with over 1200 pupils leaving the event excited and motivated about science and technology and starting to think about their future careers .Caroline Vernon,  Furness Education and Skills Partnership (FESP), Cumbria Local Enterprise Partnership (CLEP), Cumbria Careers Hub, The Careers & Enterprise Company #careers #stemeducation #careeradvice
What was Ulverstem 24th-25th May 2022?
The Furness STEM show incorporating UlverSTEM took place May 2022 and provided a showcase of activities in a new two-day experience held at Furness College in Barrow.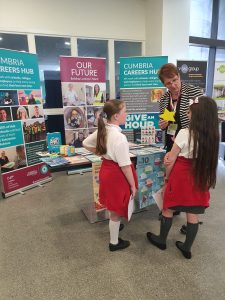 The Furness STEM Show was a new event for schools and for the public, organised by Furness Education & Skills Partnership (FESP) and sponsored by BAE Systems and the Royal Academy of Engineering, it delivered a host of activities for primary age children to discover and be inspired by STEM subjects and activities.
UlverSTEM was Ulverston's first STEM educational event for families with children 6-16 years of age. Organised by a group of local volunteers who previously hosted two successful events at the Coronation Hall, UlverSTEM presents an opportunity for young people and their families to discover and be excited about the prospect and opportunities that STEM subjects can offer in terms of education and a career.
---